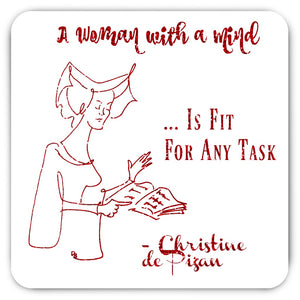 "A Woman With A Mind" magnet
If you - or someone in your office who often raids the office fridge - needs a reminder of the obvious, this is a perfect magnet featuring the quote from Christine de Pizan. Christine was one of the first women in history to make a living from her writing, and her work would have influenced the young Anne Boleyn at the court of Margaret of Austria. 
With an original sketch by San Diego artist David Brooks (who has said he's really interested in learning about all these women who he has been so gorgeously capturing) and the design in red glitter, it will glam up your fridge with a great quote, too. 
Remember everything you buy is a Purchase with a Purpose. I split 10% of my profits between the local historical society in my hometown of Lancaster, PA and through funding microloans to women refugee entrepreneurs through Kiva.