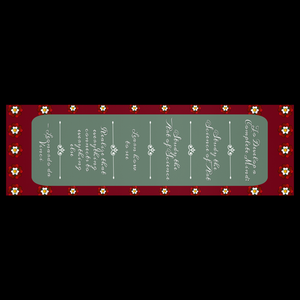 Leonardo da Vinci "Complete Mind" Yoga Mat
Regular price $49.00 Sale
"To Develop a Complete Mind: Study the Science of Art, the Art of Science, Learn how to see, and realize that everything connects to everything else." - Leonardo da Vinci
What a perfect sentiment to take to your yoga practice each week. This sturdy yoga mat will stand up to your downward dogs, and it will bring balance to your tree pose. Okay, maybe not that final part, but it is a great mat, and you'll be showing off your love of all things Tudor while sweating it out at the studio. Om Shanti, amiright?
Remember everything you buy is a Purchase with a Purpose. I split 10% of my profits between the local historical society in my hometown of Lancaster, PA, and funding microloans to women refugee entrepreneurs through Kiva.
---The Nitty Gritty Product Details---
Backside Finish
---
Material
The yoga mat is made from Eco-PVC and is latex/silicone/phthalate free, with proven non-toxic, UV ink paints. The yoga mat bag is made of recycled plastic. Comes with a green-colored non-slip backside.