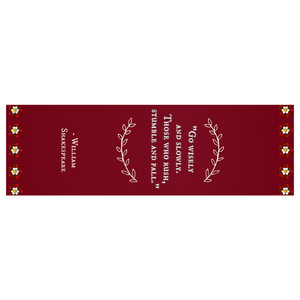 Shakespeare "Go Wisely and Slowly" Yoga Mat
Regular price $49.00 Sale
Bring Shakespeare's wisdom to your regular practice with this yoga mat. Bordered with Tudor Roses, the red color will bring energy to your yoga workout, while the meditative quote will balance you.
The color red represents physical energy, passion, courage, and power, and is the color of the root chakra, which is stable and grounding. What a perfect way to blend your love of Tudors with your practice! It comes with a carrying bag to make life easier as you head off to the studio.
Remember everything you buy is a Purchase with a Purpose: I split 10% of profits between the local historical society in my hometown of Lancaster, PA, and funding microloans to women entrepreneur refugees through Kiva.
---The Nitty Gritty Product Description---
Backside Finish
Green
Sizes
72x24 inch
Thickness
0.45cm (3/16 inch)
Material
The yoga mat is made from Eco-PVC and is latex/silicone/phthalate free, with proven non-toxic, UV ink paints. The yoga mat bag is made of recycled plastic. Comes with a green-colored non-slip backside.