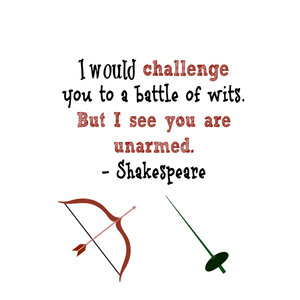 Shakespeare "I would challenge you to a battle of wits" notebook
Shakespeare was always one for a great insult. And this is the best. Proudly wear your disdain for the world, which is filled with such simpletons. Once people see this notebook, they will understand that you are a person in possession of an above-average brain, and you aren't afraid to use it. Like, with writing the next epic novel in this notebook.
I'm joking of course. The world is filled with awesome people. Like you. But if you use this to take notes in your English Lit class, your professor might give you extra credit, just for the awesome notebook. I can't guarantee that, though. What I will say is that when you use this notebook, you'll be supporting indie podcasting, and that will make you feel great about yourself. Bonus!  
Also, remember that everything you buy is a Purchase with a Purpose, as I split 10% of profits between the local historical society in my hometown of Lancaster, PA, and funding microloans to women refugee entrepreneurs with Kiva. 
---The Nitty Gritty Product Description---
Used for taking notes in school, writing essays and poems, sketching, absentmindedly doodling to relieve boredom, notebooks are one of the most versatile everyday objects in any household.
Sizes
6.50x8.75 inch
Pages
80 lined pages
Binding
Spiral
Packaging
Plastic bag, Polystyrene mug cube, boxed.