BACK BY POPULAR DEMAND!
Hi friends - so many of you have emailed me over the past 9 months since I closed the shop, and I realized that for many of you, it's been an important place to shop for items that express your love of Tudor history with a touch of whimsey. I've received so many emails from people who have asked about getting items, and said how much they miss the shop - and so, I'm working out how to bring it back in a way that is more sustainable for me with my time as I continue to work on new projects. For now, I'm glad to know that it has been such a source of joy for so many of you, and I'm happy to be back.
Welcome back to your source for clothing and accessories that express your love of Tudor England while also showcasing your personality.
Come to Tudorcon from the comfort of your own home with the Tudorcon Streaming Ticket - September 8-10!
Tudorcon 2023 tickets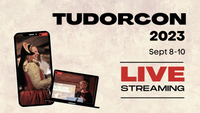 💕 ❤️ Spread some Tudor love❤️ 💕
---