Hey, this is Heather from the Renaissance English History Podcast, and this is your Tudor Minute for September 7.
Today in 1533 a little girl was born in Greenwich, less than two weeks after her mother had gone into confinement. The parents were so sure that she would be a boy that they already had the announcements made up, and had to change them, adding in an extra S to the word Prince, after she was born. Celebratory jousts were cancelled, because this little girl wasn't the prince that her father had risked excommunication for. She wasn't the prince that her father had left her mother for. She wasn't the prince that her mother had promised her father. In short, she wasn't the prince that her parents thought God would deliver. Instead, she was Princess Elizabeth, and the great irony is that while she wasn't a boy, she was the one Tudor who united England, and who ushered in the Golden Age of Elizabethan [Insert your favorite thing here – mine's music].
Her mother would die less than 3 years later, and her father would never know the powerful woman she would become, but she did both her parents proud.
That's your Tudor Minute for today. Remember you can dive deeper into life in 16th century England through the Renaissance English History Podcast at englandcast.com.
Birth Announcement:
Right trusty and well-beloved, we greet you well. And whereas it hath pleased the goodness of Almighty God of His infinite mercy and grace to send unto us at this time good speed in the deliverance and bringing forth of a princess to the great joy and inward comfort of my Lord, us, and of all his good and loving subjects of this his realm, for which inestimable benevolence so shown unto us we have no little cause to give high thanks, laud and praise unto our said Maker, like as we do most lowly, humbly, and with all the inward desire of our heart. And inasmuch as we undoubtedly trust that this our good speed is to your great pleasure, comfort and consolation, we therefore by this our letters advertise you thereof, desiring and heartily praying you to give with us unto Almighty God high thanks, glory, laud and praise, and to pray for the good health, prosperity, and continual preservation of the said Princess accordingly. Given under our signet at my lords' Manor of Greenwich. The 7th day of September, in the 25th year of my said lord's Reign.
The Birth Announcement (The Extra S is in the third line down – bringing forth of a princess – just in the middle)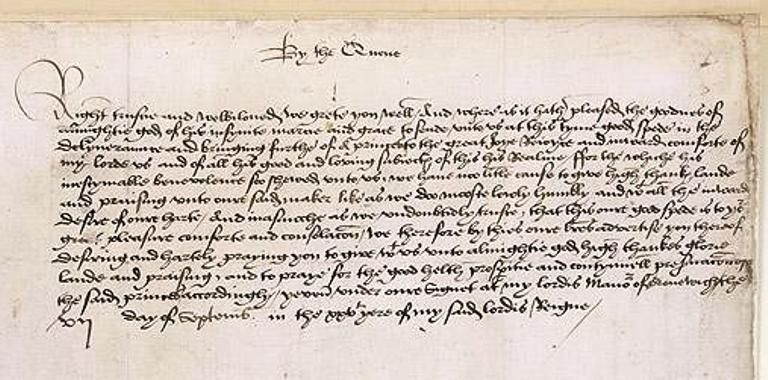 Celebrate Elizabeth with products from the Tudorfair Shop
But First, Coffee mug
https://tudorfair.com/products/elizabeth-i-but-first-coffee-mug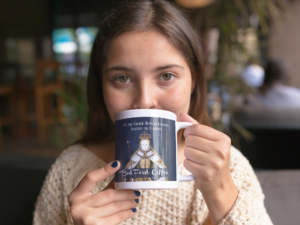 Small Sling Purse
https://tudorfair.com/products/elizabeth-i-sling-bag-round-sling-bag-model-1648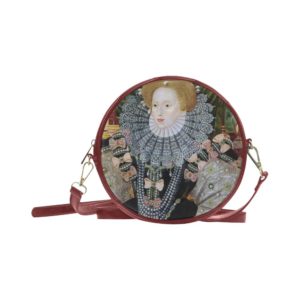 I will have but one Mistress and no Master Stainless Steel Pendant
https://tudorfair.com/products/i-will-have-but-one-mistress-and-no-master-elizabeth-i-stainless-steel-pendant
Women unfit to rule? The Future has Always Been Female shirt.
https://tudorfair.com/products/the-future-has-always-been-female-womens-short-sleeved-tshirt